Accessibility provision of the California Building Code are an important part of the California Supplemental Exam. We need to make sure we are clear on the requirements as it pertains to the Exam and our own architectural practice.

Podcast Episode 034.
Click to Listen
Podcast: Play in new window | Download
Get the Mobile Apps!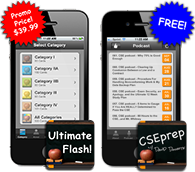 I've created 2 Mobile Apps to help you succeed. Check out the Ultimate Flash! App to practice 500 flashcards on the go and the FREE CSEprep App to have all the podcasts and video tips at your fingers, literally. Available for iPhone, iPad, and Android devices. Search the App Store for cseprep and Download it TODAY!
Upcoming LIVE! Seminars
Upcoming Seminars – Sign up now https://californiasupplementalexam.com/seminars/
Please Subscribe
Receive automatic updates when you subscribe below!