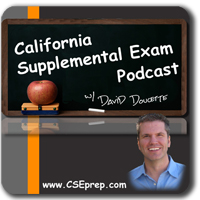 Podcast: Play in new window | Download
About this Episode:
In this episode, I reveal my new products page at CSEprep.com which allows for Instant Download of study materials. I also address a comment about giving additional number of items and my thoughts on that. I reveal three tips that will be extremely helpful to those in their final week of preparation for the exam. Finally, I review two questions and give suggested answers discuss the best way to formulate responses.
Do you want to become part of next two upcoming shows I'm offering candidates who are taking the oral exam in November a free 2 question phone session in which I will ask you two questions and critque your answers and give you valuable feedback. The only thing I ask in return is to include your session in an upcoming episode.
Right Click Here to Download mp3
Questions or Comments? Call in to the voicemail feedback line at 1.800.476.5579 and hear your question, in your voice, on the air!