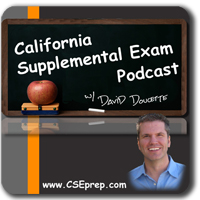 [audio:http://traffic.libsyn.com/reside/cse32-audiencequestions2.mp3]
About this Episode:
At the beginning of the show I mentioned we'd discuss Knowledge Statement #45 but ran out of time after answering audience questions so I'll do that Knowledge Statement next week.
One last chance and small window to get into the BETA testing program of the OMCES, the Online Multiple Choice Exam Simulator
Jen sends in a question about the General Plan, Substantial Completion, and the Permit Streamlining Act. Be sure to check out the link to the Permit Streamlining Act
Neil called in voicemail about the General Conditions, Green Building Code, Solar hot water plumbing. Be sure to check out the link to the CSE Reference Materials for the latest materials that candidates should be familiar with.
Like us on Facebook – Click the right sidebar "like" button on www.cseprep.com or www.facebook.com/cseprep
Upcoming Webinar August 10 & 17
Upcoming Seminars for September, & October – Sign up now https://californiasupplementalexam.com/seminars/
Want to hear  more about my personal journey, check out "the pursuit of mindful living"
Find us on itunes
Like what you've heard? I would greatly appreciate you leaving a comment here and/or submitting a review to itunes.
Right Click Here to Download mp3
Questions or Comments? Call in to the voicemail feedback line at 1.800.476.5579 and hear your question, in your voice, on the air!
Podcast: Play in new window | Download