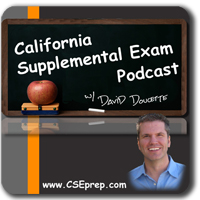 [audio:http://traffic.libsyn.com/reside/cse24-designdrawings.mp3]
About this Episode:
Knowledge Statement #40: Knowledge of contents of design drawings and related documents required for agency approvals
Announcing the Facebook CSEprep.com fan page. Join the CSE community! www.facebook.com/cseprep
BETA testing is open again! looking for a few more beta testers. Must submit 20 Questions and Answers PLUS feedback as to why the correct answer is correct and why the incorrect answer is not correct from Categories IIB, III, or IV. I already have several questions in those categories so PLEASE make sure your questions and answers are unique. Questions and answers without feedback will not be considered for the BETA testing program.
John sends in some very heartfelt feedback from the recent seminar
Logan sends in feedback related to his new "position"
Upcoming Socal Seminar, Saturday June 25
Upcoming Seminars for July, & August – Sign up now  https://californiasupplementalexam.com/seminars/
Online Multiple Choice Exam Simulator –  Update
Want to hear  more about my personal journey, check out "the pursuit of mindful living"
Find us on itunes
Like what you've heard? I would greatly appreciate you leaving a comment here and/or submitting a review to itunes.
Right Click Here to Download mp3
Questions or Comments? Call in to the voicemail feedback line at 1.800.476.5579 and hear your question, in your voice, on the air!
Podcast: Play in new window | Download