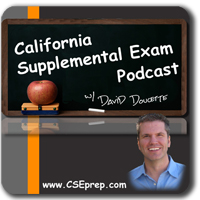 [audio:http://traffic.libsyn.com/reside/cse21-limitliability.mp3]
About this Episode:
Knowledge Statement #38: How practicing within the standard of care limits professional liability exposure
$200 April Amazon Giftcard Feedback Contest Winner is chosen and announced!
Upcoming Socal Seminar, Saturday May 21
Upcoming Seminars for June, July, & August – Sign up now https://californiasupplementalexam.com/seminars/
Carina send in feedback about the Study Guide
Dustin sends in some very touching feedback about the CSE podcasts
Brian and Lisl send in feedback about the discussion Essential Services Buildings and Hospitals
Link to OSHPD that Brian provided http://www.oshpd.ca.gov/FDD/seismic_compliance/
Online Multiple Choice Exam Simulator – BETA testing: How to become part of it and start practicing online. The details;

Online Multiple Choice Exam Simulator will formally launch at the end of May/early June, but you can become a BETA tester and gain access to the online tests in 2 Weeks PLUS gain free access once the Multiple Choice Exam Simulator goes public, here's how;
Send to david@cseprep.com 20 Multiple Choice Questions w/ 4 answers and the correct answer noted. Please make sure these are orignal and thoughtful questions
You will be invited to begin participating in the Online Exam Simulator in about 2 weeks which should have a bank of 300 – 500 questions at that point
Once it goes public, you will receive FREE 30 day access
Send in your 20 Multiple Choice Questions to david@cseprep.com

Find us on itunes
Like what you've heard? I would greatly appreciate you leaving a comment here and/or submitting a review to itunes.
Right Click Here to Download mp3
Questions or Comments? Call in to the voicemail feedback line at 1.800.476.5579 and hear your question, in your voice, on the air!
Podcast: Play in new window | Download