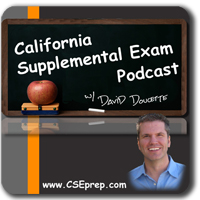 [audio:http://traffic.libsyn.com/reside/cse17-feedback1.mp3]
About this Episode:
Audience Feedback and Questions
$200 April Amazon Giftcard Feedback Contest – Help me improve my materials! Whether you've already taking the Exam or are still studying, YOU can Enter to Win a $200 Amazon Gift Card by submitting your recommendations/suggestions for improvement to david@cseprep.com
What's the deal with CAB making us wait 90 days
Christine offers a suggestion about interviewing Agencies
Takeshi sends in a suggestion about the Project Scenario
Kevin gives some kudos about a recent LIVE! seminar
Mark and Xie send in quick thoughts after taking the exam
Michael from NY sends in thoughts about the review of contracts
Edward discusses the removal of Section 135 from the Architects Practice Act
Shannon also sends in removal 135 plus some other Practice Act information
Lisl offers a suggestion about painting a broad overview before diving into review of contracts
Sue sends in several questions about Architect's responsibilities
Gordon brings up the 'ole "specifications over-rule drawings" debate
Upcoming NoCal Seminar, Saturday April 30
Upcoming Webinar Wednesdays, April 20 & 27
Upcoming SoCal Seminar, Saturday May 21
Find us on itunes
Like what you've heard? I would greatly appreciate you leaving a comment here and/or submitting a review to itunes.
Right Click Here to Download mp3
Questions or Comments? Call in to the voicemail feedback line at 1.800.476.5579 and hear your question, in your voice, on the air!
Podcast: Play in new window | Download