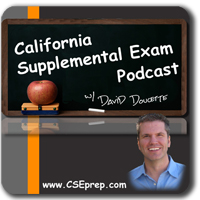 [audio:http://traffic.libsyn.com/reside/cse10-regulatoryagencies.MP3]
About this Episode:
Knowledge Statement #31: Approval from Regulatory Agencies
Candidates are scheduling their exam on the PSI website!
NoCal Seminar Update: Discount Extended &  Holiday Inn Oakland Airport http://www.hioaklandairport.com/
Webinar Scheduled! https://californiasupplementalexam.com/webinars/  **Please note that if you've already purchased the Whole Enchilda and would like to participate in the Webinar, send an email to david@cseprep.com and I will send you a discount link (difference between Webinar and Whole Enchilada already purchased)
Voicemail feedack from Alvin about Knowledge Statements #15, #17, #18, #21, #31
Questions from Josue about submitting to agencies
Comments from Jerry, Paul, Christine, and Takeshi
Find us on itunes
Like what you've heard? I would greatly appreciate you leaving a comment here and/or submitting a review to itunes.
Right Click Here to Download mp3
Questions or Comments? Call in to the voicemail feedback line at 1.800.476.5579 and hear your question, in your voice, on the air!
Podcast: Play in new window | Download