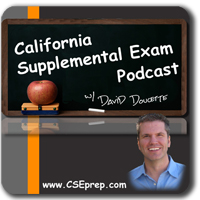 Podcast: Play in new window | Download
About this Episode:
In this episode, I introduce the ONLY podcast dedicated to the California Supplemental Exam and give some great advice to the candidates who are taking the last of the oral format on November 15, 16. I reveal the 2 MOST important points that candidates must be aware of for the oral format. I also have one of my students and candidates, on the show and I ask him three questions and critique his answers. You'll want to hear this if your taking the oral exam in a couple of weeks.
Do you want to become part of one of the next two upcoming shows? I'm offering candidates who are taking the oral exam in November a free 2 question phone session in which I will ask you two questions and critque your answers and give you valuable feedback. The only thing I ask in return is to include your session in an upcoming episode.
Right Click Here to Download mp3
Questions or Comments? Call in to the voicemail feedback line at 1.800.476.5579 and hear your question, in your voice, on the air!