I conduct the LIVE! Seminar in 
Southern California

.

***I will be conducting 3 LIVE! Seminars in 2020! January, June, and September. Seating fills up fast!***
What is the LIVE! Seminar?
The LIVE! Seminar is designed to discuss and review the most important Knowledge Statements of the 2014 California Architects Board Test Plan including the reference materials listed on CAB's website. We will also have time for a Special Question and Answer Period so be sure to bring any and all questions. Candidates will also be given a written multiple choice exam that we will review in class. Please review Terms and Conditions before signing up for the LIVE! Seminar.
***SEATING IS LIMITED, SIGN UP TODAY!***
Candidates have flown in from around the country and Canada to attend this important and informative one day seminar, including candidates from New York, Nevada, Oregon, Colorado, Washington, Minnesota, Alabama, Wisconsin, Arizona, Texas, New Mexico, Utah, Michigan, New Jersey, Florida, Montana, Georgia, and Hawaii!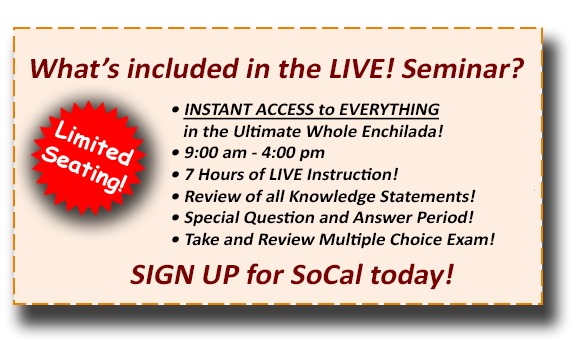 The next  LIVE! Seminar is;
(SoCal) Saturday, January 25, 2020 near LAX Airport. Fly in for the day and take the Free Shuttle to the Hotel!