I'm happy to announce the January Seminar has been scheduled. I'm looking forward to diving in to the revised format!
Next LIVE! Seminar: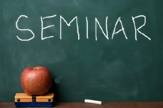 Saturday, January 22, 2011 in Culver City, CA
The LIVE! Seminar is designed to discuss and review ALL 55 Knowledge Statements of the 2007 California Architects Board Test Plan including the reference materials listed on CAB's website. We will also have time for a Special Question and Answer Period so be sure to bring any and all questions. Candidates will also be given a written multiple choice exam that we will review in class. Highlights include;
Seminar held 9:00 am – 4:00 pm
Covers ALL 55 Knowledge Statements
One Hour on each Category
Special Question & Answer Period
Take and Review Multiple Choice Exam
PLUS Instant Access to "The Whole Enchilada" when you sign up, start studying TODAY!
SEATING IS LIMITED, visit the  SEMINAR PAGE to SIGN UP TODAY!